A Castle in Istria
Oprtalj/Portole
Istria is often compared to Tuscany before the tourists arrived.
Palazzo Portole sits in its own grounds with a pool, walled gardens and shaded outdoor dining for 12 or more. Situated on the northern side of the town of Oprtalj in Istria the Palazzo affords sweeping views of olive groves, vineyards and terraces dating back to Roman times. 
Sometimes visitors to Oprtalj think the Palazzo is an hotel. Our only similarity to an hotel is that we offer an excellent concierge service and occasionally what we think of as 5* cuisine.
There is no mass tourism here. Instead you will find a quirkily efficient hilltop town with a post office, general store and excellent terrace bar and restaurant. There are antiques shops, galleries and a church with frescos dating back to the 14th century. For kids it's like stepping into an adventure story.
***SPECIAL OFFERS***
WE STILL HAVE SOME WEEKS AVAILABLE TO RENT THIS SUMMER
WE OFFER DISCOUNTS FOR EARLY BOOKINGS
If you would like to know more, please contact us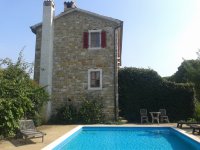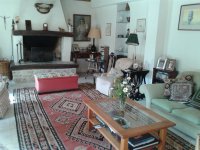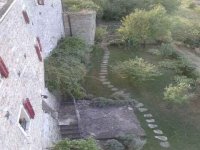 The pool                              The Sitting Room                   The North Garden
The Castle
Palazzo Portole with its high tower keeping watch to the north and east is unique. Go up to the Tower Roof Terrace to admire the stunning countryside, unspoiled nature and panoramic views of lakes, mountains and forests. The beautiful gardens with a private pool and outdoor eating area provide seclusion and privacy. The interior decor with its quirky details reflects the taste of the owner and the heritage of the Castle.
Oprtalj, an ancient settlement on a peak of just over 1200 ft (378 m), is sparsely populated but still at the centre of local life - www.istrianet.org/istria/towns/oprtalj/history1.htm. The Venetians built the lovely town Loggia and the Austrians considered it important enough for them to locate one of the highest stations on their Parenzana railway line just below the town - www.parenzana.net/en/parenzana_ii.
For a stunning aerial tour of Istria watch this amazing film - https://www.youtube.com/watch?v=VEG8YTW61yk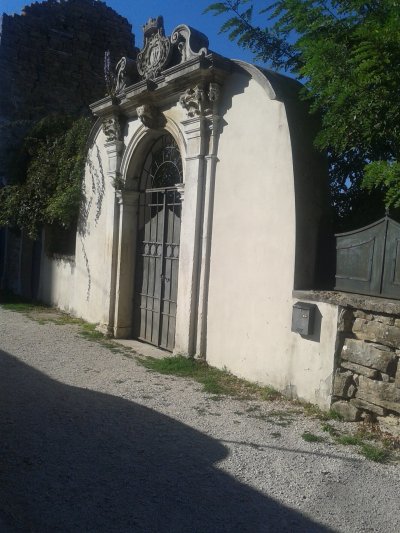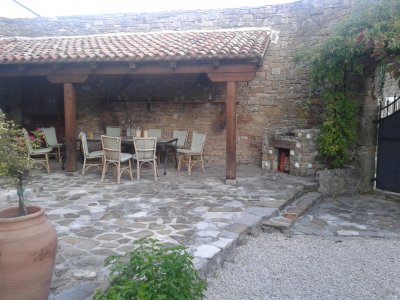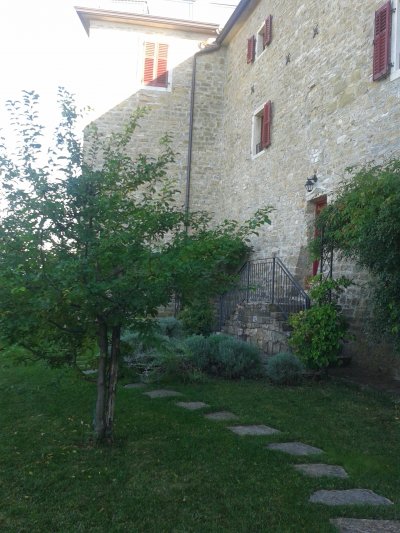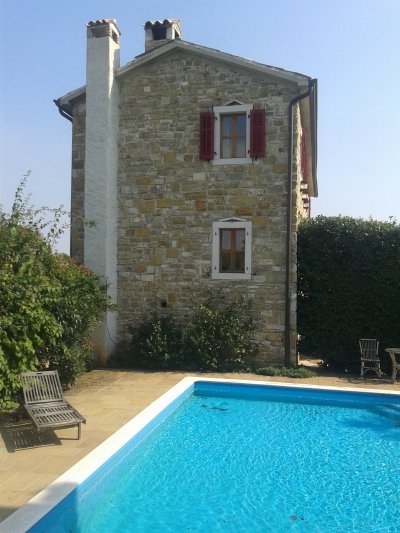 Perfect for Your Holiday
We have welcomed guests at Palazzo Portole for over a decade and we have plenty of experience of helping to make your stay here special. The layout of the property makes it flexible for all sorts of different groups, with places indoors and out for children to play in safety, such as the Tower room; quiet spots like the Library or Roof Terrace for those who want a bit of peace and large living areas -  the Sitting Room, the large Kitchen-Dining Room and the outdoor Loggia - where the whole party can gather.
The Palazzo is perfect for family holidays; cycling - http://www.istria-bike.com - walking and birdwatching adventures; spa breaks - www.istarske-toplice.hr/pages_en/index_en; archaeological and cultural sightseeing trips; hunting parties; gastronomic tours; wedding or conference groups. For further information please check these links www.istra.hr/en/attractions-and-activities/sport/trekking / www.istria-bike.com/en.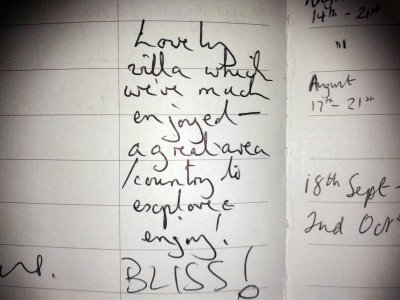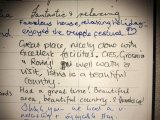 Spectacular Location
The Palazzo is the most prominent private residence in this small town. A walk around Oprtalj reveals the ancient layout of Oprtalj with thick defensive walls laid out in the middle ages still visible. What stands here now is the most recent building on this ancient site. It was erected in the 18th Century on part of those town walls and is the most impressive property in Oprtalj. The town has barely changed for centuries with deep vaulted arches and cobbled lanes too narrow for traffic. Although the main holiday season covers the summer months, the Castle is special all year round. There is often snow at Christmas, beautiful Spring weather at Easter and a heatwave in May. The year-round activities provide as much interest off-season as in the summer.  
Easy Access
It's easy to get to Oprtalj from Trieste in Italy - an hour's drive away - and Ljubljana in Slovenia, which is just under two hour's drive. There are flights and trains from all over Europe to both of these cities. Venice is two and a half hours away by car. You can take a fast hydrofoil there during the summer from the coast, half an hour away, and return within the day -  http://www.venezialines.com/schedules. There are flights from April to October into Pula, at the tip of the Istrian peninsular and also to Rijeka, both just over an hour away. The motorways are excellent and the local roads are relatively quiet, even at the height of the season.