Kids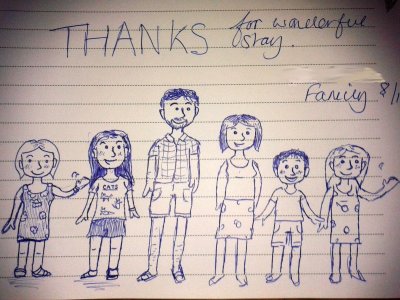 Kids love Palazzo Portole - they tell us all the time. It's not surprising once you've done a bit of exploring around the castle and through the streets and alleyways of Oprtalj. 
The Palazzo is perfect for children of all ages. It stands in a garden with walls and gates keeping it safe from the lane outside. The swimming pool has a long shallow end and easy steps to get into it and it is not more than two metres at the deep end.
The roof terrace has a heavy trap door which a little child can't lift - it's too heavy - so small people can't get up there without an adult's help. Once you're on the terrace there are railings all around the top so you're safe while you're up there.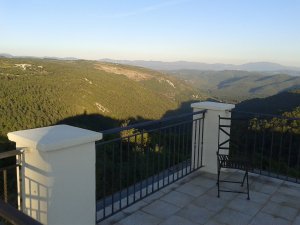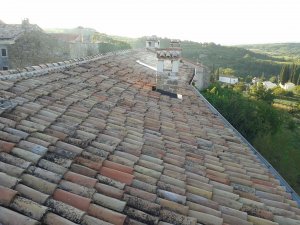 Views from the Tower Roof Terrace
Oprtalj has no cars inside the town walls and you can explore its courtyards, ruins and alleys, hide in the archways and run around without parents worrying. Lots of the children who live here speak English.



Some of Oprtalj's lanes and alleys
The nightingales sing and little owls hoot at night - copy the owls' calls and they'll come right to the garden.
There are lots of cats Oprtalj - many don't have owners so they roam around on the lookout for new friends. If you encourage them they'll adopt you but take care - they are not really tame. Early in the morning there may be one sunbathing on the warm stone by the pool or at the top of the front steps.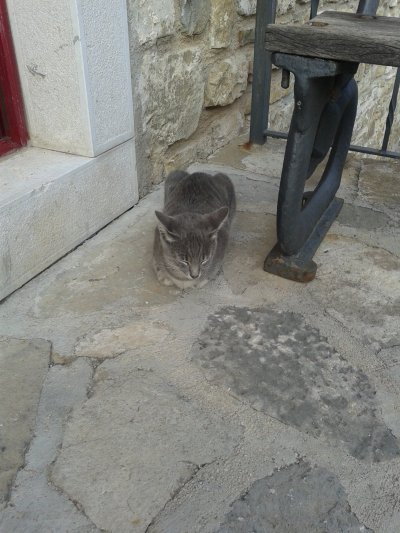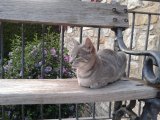 There's a swimming pool at the Palazzo and the seaside is pretty close too. You can go on boat trips, windsurf and dive or just beachcomb and collect pebbles and shells.
There's an aquapark called Istralandia about half an hour away in the car. It's got water-slides, flumes and a pirate ship and they keep adding new rides. Check it out on their website at www.istralandia.hr/en/ 
If you like cycling there are great trails to follow - the Parenzana, the route of an old railway line which passes right next to Oprtalj, has spooky tunnels and bridges over deep valleys.  You can get a delicious ice cream at the end in Groznjan.
Views of the Parenzana route
You can ride donkeys here in Istria - there is a family of them just down the road.  Istrian donkeys are a special breed, you can tell by their ears which are different - bigger and pointier. They even have their own State Fair in October - click this link to see more - http://www.istra.net/en/events/istrian-donkey-state-fair-04889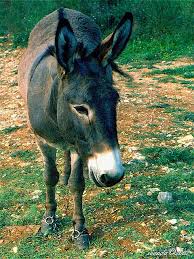 Click on this link to see some of the outings you can go on when you're staying at the Palazzo: http://www.istra.hr/en/attractions-and-activities/children-and-family
There's loads of wildlife all around.
There are beautiful beetles which fly around the garden like the one on this rose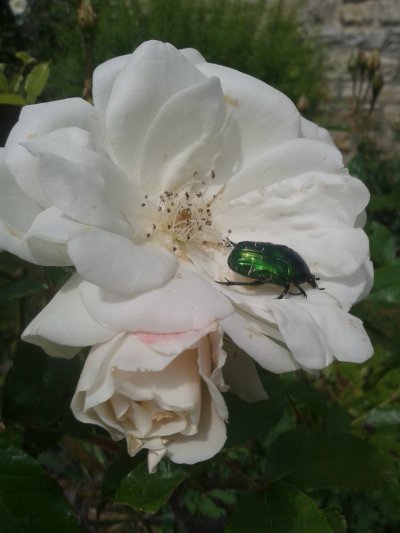 The tower is the oldest part of the Palazzo. At its lowest level it has fantastic bedroom. There's a platform above ground level with beds on it. You get to this room through the cellar and the wood room and it's the perfect place for a den. There may even be a very old blocked-up tunnel behind the shelves at the bottom of the stairs - it certainly looks like there was once a door there. People say there are tunnels under the whole of Oprtalj but you can't get into them anymore.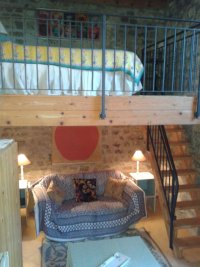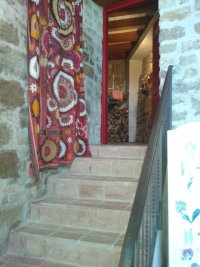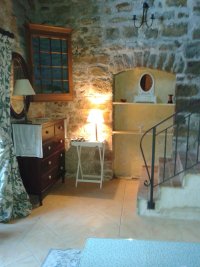 Upstairs in the tower there's another great bedroom with a spiral staircase that takes you to the roof terrace with amazing views (and railings, so you're quite safe). Lying up there stargazing on a warm Istrian Summer night takes your breath away. If you live in a city you'll love the starry skies - the nights are so dark here you'll see much more than at home. In August you can watch the Perseid meteor shower night after night and there's a repeat performance in November from the Leonids.         
Around Autumn Half Term time is our lightning season and it's seriously dramatic. The storms rumble around the castle and St. Elmo's fire dances along the iron fences and gates - http://en.wikipedia.org/wiki/St._Elmo's_fire.  The lightning comes in sheets and forks and lights up the landscape in flashes as bright as daylight.
Nikola Tesla was born in this part of the world. If you haven't heard of him look him up http://en.wikipedia.org/wiki/Nikola_Tesla. He really understood the power of lightning. He invented Alternating Current (A/C) which is how our homes are supplied with electricity. Experience one spectacular electric storm here and you'll see why he was so interested in taming the power of nature.